Screen Printing Combo Kit
After the instructions about the screen making, you now understand the steps are simple. You can even do it at home. We have prepared a combo kit for beginners. Included are all the tools that can help you to make screens. This kit is suitable for students, teachers or those who want to start a business.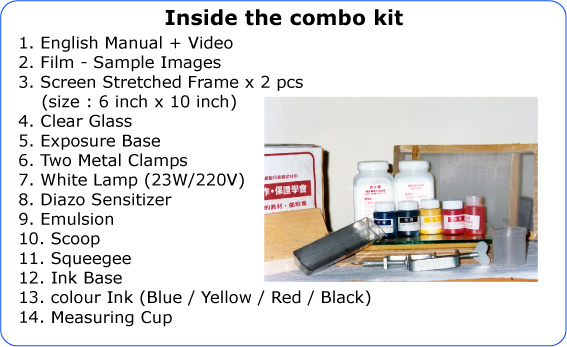 The price for the combo kit is HK$ 900. / set.
The screen making steps are easy and the cost is low. It can be printed on different kinds of surface. It is a good topic for art classes in school. Our aim in preparing this combo kit is that we want to promote this technical knowledge. And help more people understand what screen printing is about.

| | |
| --- | --- |
| Wooden Frame | Aluminum Frame |
| Screen Mesh | Scoop (Emuslion Coater) |
| Wooden Squeegee | Metail Squeegee |
| Sensitizer | Printing Platform |
| Clamps | UV Lamp |
| Ink | Screen Stretcher |